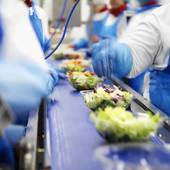 WE WORK WITH YOU
Food Quality Services is dedicated to helping small companies develop food safety programs, prepare for 3rd party food safety audits, and provide needed food safety training to their employees.
Food Quality Services can:
Guide your organization though SQF or ISO 22000 audit preparation (from start to finish).
Prepare you for a 3rd party food safety audit (Eagle, AIB, NSF).
Conduct a thorough sanitation and GMP inspection for your food processing or food service operation.
Provide 3rd party aseptic sampling for microbiological analysis.
Provide 3rd party sampling, documentation and courier service for FDA detentions.
Train your employees in food safety, including certificate level HACCP training.
Provide labeling expertise for USDA and FDA regulated foods.
Troubleshoot quality problems for you, your vendors and your co-packers.
We are a consulting firm, but we are also a "doing" firm. We will work with you to help you achieve your goals.
Food Quality Services is a growing company because we understand that when people call us it is because they need help to achieve their food safety goals. We have strategic partnerships with several seasoned food safety consultants and service providers in the northeastern United States. These relationships allows us to take on large projects, over a wide geographical area, and provide our clients with a wider scope of expertise.
We can help you prioritize your food safety strategy. We will listen to you and help you come up with a plan that meets your time line and your budget.
Look at "what people are saying about Food Quality Services" on Linkedin and this website. Our clients truly value us, because we provide all of them with great service and great value.